1236 SAFEGUARD® HEAVY DUTY LEVER
LOCKING HANDLE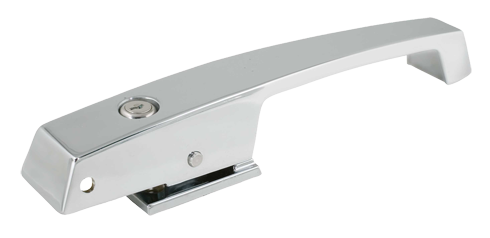 Powerful lever action easily overcomes high strength magnetic seals and frees frosted doors
Cylinder lock and padlock provision are standard for added security
Fully concealed mounting discourages tampering
Complete with inside release mechanism
Handle end will not strike door face
Interchangeable with competitive models
Kason No. 1236 lever locking handle comes complete with 90° turn inside release mechanism. Select lever or knob turn inside handle.
U.S. Trademark 2,380,550
Specifications
MATERIAL
High pressure die-cast zinc.
WEIGHT
Approx. 26 lb. (12.0kg) per carton
MOUNTING
Holes drilled and countersunk for 1/4" (6.0mm) screws.
PACKAGING
6 per carton.