1094 SURECLOSE™ HYDRAULIC DOOR CLOSERS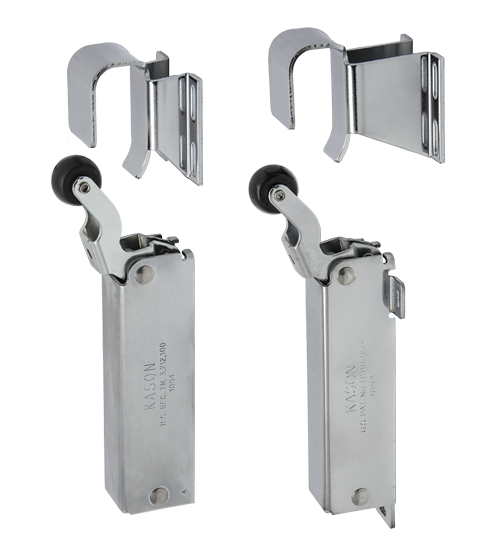 Powerful gas-loaded hydraulic cylinder guarantees controlled closure
Exposed and concealed mounting models
Solid steel enclosed housing and bend-resistant hook assure long wear in heavy use
Extra-wide hook ensures roller pick-up and overcomes alignment problems
Life-cycle tested to operate reliably even after a half-million closures
Perfect complement for Kason Walk-in hinges and latches where self-closing doors with controlled closure are needed
Mounting slots on hook allow for easy adjustment to compensate for door sag, keeping roller aligned with hook for proper function
1094S DUAL-SPEED CLOSER
All the features of the 1094 SureClose™, with the additional benefit of a specially developed snubbing mechanism. Initial fast closing action allows unit to withstand slamming force, while secondary, slower action provides gradual closing to lessen final impact.
U.S. Trademarks: 3,212,100 & 5,809,887
Specifications
MATERIAL
Heavy gauge steel. Housing and hook also available in stainless steel
FINISH
Polished or brushed chrome, stainless steel, or powder coat
MOUNTING
Holes drilled for No. 10 (5.0 mm) screws (included).
WEIGHT
See Catalog.
PACKAGING
Closer and hooks packaged separately, 24 to carton