0450KL2100 SERIES ELECTRONIC FAUCETS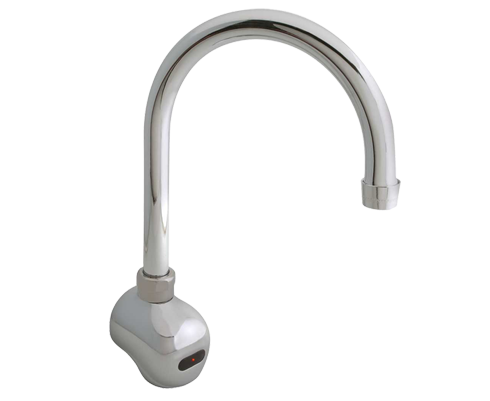 Sensor activated, hands free operation
Durable chrome plated brass faucet body
Chrome plated tubular brass gooseneck spout
AC/DC waterproof control module
Long battery life with 4 AA batteries
100-240 VAC adapter included
Temperature control mixing valve
Low-battery indicator light
ADA compliant
Sensor range adjustment
Auto time-out adjustment
Water shut-off delay adjustment
Hot and cold supply lines included
Easy to install; installation guide included
One year limited warranty
Specifications
MATERIAL
Chrome plated brass faucet body and tubular gooseneck spout; flexible stainless steel hoses.
SPOUT
Rigid gooseneck converts to swivel action.
CONTROLS
AC or DC operated with 4 AA batteries;
3-5/8" x 4-3/16" x 2" (92 x 106 x 50mm) control module box; 24" (610mm) sensor cable; 84" (2133mm) long power cord with 100-240 VAC adapter.
MOUNTING
Wall Mount: Suitable for surfaces up to 1-15/16" (49mm) thick. Requires 1" (25mm) diameter mounting hole.
Deck Mount: For use on counters up to 2-1/4" (57mm) thick. Requires 5/8" (16mm) diameter mounting hole.