0050 CYLINDER LOCKING BRASS LATCH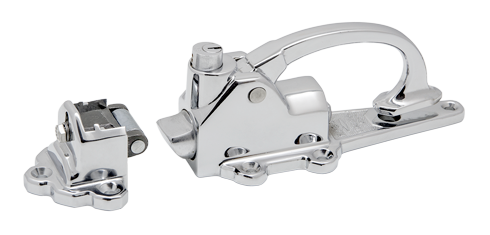 Super strength brass latch easily withstands toughest applications
Provides the ultimate corrosion resistance
Stationary cylinder lock
WARNING: No. 50 latches cannot be opened from inside when locked, therefore they should not be used on doors which are sole means of exit from walk-ins. When safety latches are required, see Kason SafeGuard® latches in this section.
Specifications
MATERIAL
Forged brass with steel tongue and strike inserts.
FINISH
Polished chrome.
WEIGHT
Approx. 7lb. (3.2kg) per carton
MOUNTING
Holes drilled and countersunk for 1/4" (6.0mm) screws.
INSIDE RELEASE
Order separately.
OFFSETS
See order information.
PACKAGING
1 per carton.