1832 LARGE SPRING VALVE HEATED
PRESSURE RELIEF PORT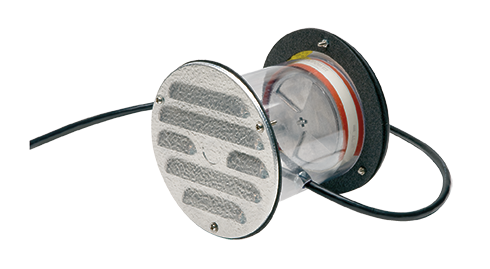 Higher flow and easier spring than similar 1830 vent
Protects from structural damage because of temperature/pressure build up
Compensates for air expansion and contraction
NOTES:
Walk-In operation temp range: -20°F(-28.9°C) to 40°F(4.4°C)
Specifications
MATERIAL
Body: All metal parts are aluminum.
Internal Sleeve: self-extinguishing Lexan.
COVER PLATE
6-1/4" (165.1 mm) diameter round aluminum cover plate or square stainless steel cover plate.
CERTIFICATIONS
UL Listing File No. E57306
LENGTH
Standard for 4" (101.6 mm) wall thickness; other lengths available. Specify exact wall thickness; we will convert to our part number.
WEIGHT
13 lb (5.9 kg) per carton
PACKAGING
10 per carton
MOUNTING
May be mounted through wall only. Drilled for No. 8 (4.0 mm) screws.
INPUT POWER
120 V, 23 W, 0.2 AMP
240 V, 23 W, 0.1 AMP
OPTIONS
Square cover plates available, special order